Put in place the cost reallocation mechanism
Improve invoicing to consumer businesses
The reallocation of expenses requires choosing the most appropriate method of chargeback for the organization, finding the right compromise between simplicity, fairness, predictability and controllability.
For example, when services are shared between BUs, it may be preferable to re-invoice each BU:
in proportion to its use,
on a fixed value,
do not charge them at all but keep this expenditure for a separate cross-cutting budget
It may also be preferable:
to use a fixed unit cost per year.
to use a variable cost on a monthly basis depending on the new calculations.
There are therefore many questions to be asked, including the level of precision in giving this chargeback.
Between a high-level allocation and a fine allocation to service consumption, there is a big difference in the level of precision but also in the costs. Finally, we must also ask ourselves the question of the process: do we leave the Lead FinOps the freedom to communicate the "Bill of IT" for immediate chargeback to finance? Or do we prefer to go through iteration cycles of validation with the BUs first? At the beginning there will be errors and fine-tuning to be done, so it may be preferable.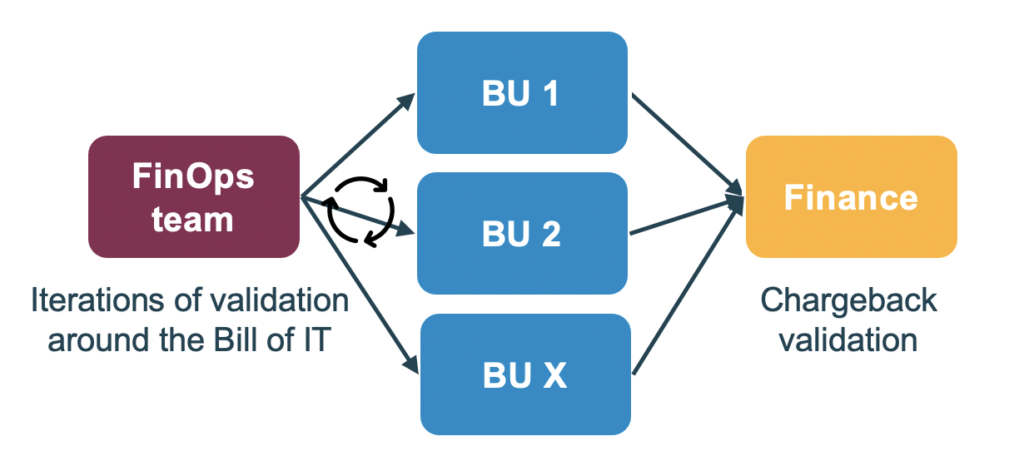 Selecting the right cost allocation method can lead to disagreements among Business Unit managers. The challenge is therefore to find the right balance between the desire for a perfect solution, business needs and the capabilities of the FinOps team. Choosing an allocation model is essentially a matter of selecting the weaknesses that the organization is willing to accept and ensuring that business managers understand the trade-offs.